Thank you all for your wonderful feedback on this edition of Rhythm of The Home.  It has been wonderful.

Below,  you will find the giveaway winner's name and their quote from their comment listed underneath the description of each of the items in bold, italic type
::::::::::::
Stephanie is kindly sharing one copy of her cook book From Your Freezer To Your Family, Slow Cooker Freezer Meals. This book is about the combination of the easiest type of freezer cooking, which is meals that only require assembly, and the easiest type of cooking, by using the slow cooker, which allows you to walk away and mostly forget about it until it's time to eat.
It includes grocery list, nutrition info and cute labels to print. And it has a ton of information about what makes these recipes healthy and what healthy really means.
Corrie: I like From Your Freezer To Your Family, Slow Cooker Freezer Meals
:::::::::::
Julia is offering supplies to make your own Garden Doll to one reader. Just like the one in this edition of Rhythm of the Home.
Lacie:  I love the doll, I would like to make one with the supplies!
::::::::::::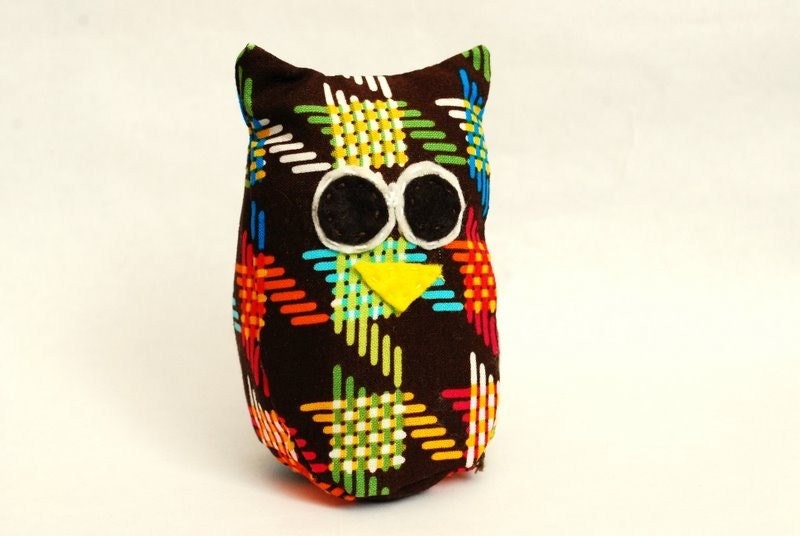 Kathryn is sharing this cute owl bean bag and plush toy from her shop. The toy is filled with bamboo fiber filling while the bottom is filled with real beans. It's sewn up nice and tight no worries about beans falling out. It is a perfect toy for babies toddlers or even as a funky paper weight. It's made of 100% cotton fabric, bamboo fiber filler, white navy beans.
Cassie: the little owl would be perfect for our infant son!
::::::::::::
Amber is kindly giving away a copy of her "How to make a hand-felted story mat" E-book from her site as well as a 12 pack of colours to get started creating!
Autumn: I want to win the How to make a hand-felted story mat!
::::::::::::
Jen is sharing one copy of Issue #01 of Wild Sister Magazine with three readers.
"In this, the very first issue of Wild Sister Magazine, there is almost 50 pages of wisdom, inspiration, truth, beauty and empowerment from some very amazing women. Writers in this issue include Amanda Oaks, Tricia Huffman, Jenn Gibson, Lauren Rains, Brenda Rodriguez, Lauren Lankford, and many more!"
Andrea: Lovely items and difficult to choose. The Wild Sister Magazine sounds intriguing and would provide some perfect me-time.
::::::::::::
Heather is giving away a set of five handmade bubble wands that are perfect for any summer day.
Bethany: Oh, oh, handmade bubble wands, please!
Erica: ah, the bubble wands are lovely! my kiddos would put them to good use this summer, for sure!
Amanda: It is so hard to decide because they are all wonderful, but I know my bubble loving 2 and 4 year old daughters would flip over those gorgeous wands.
Priscilla: We would LOVE a homemade bubble wand!!!
Emma: I love that the bubble wand giveaway basically creates the incentive to play with them and then go out & pick beads to make our own (to either play with or give away).
::::::::::::
Lucy is offering each of FIVE readers a copy of her e-book Moon Time: a guide to celebrating your menstrual cycle. This book provides a highly accessible, practical and reflective guide to being a cycling woman, offering you the opportunity to experience the following:
Deeper harmony with yourself and your cycle,greater self-knowledge and self-acceptance,connection to nature's cycles, seasons and the moon,rituals to express your feminine creativity,an enhanced relationship with your family at "that time of the month",a way to,balance your hectic life and your body's needs,positive language to describe your body and its functions,guidance on how to create,a red tent or moon lodge,natural ways of dealing with PMS,knowing how to celebrate your daughter's impending womanhood.
Cristin: I would love a copy of Moon Time – it looks fascinating.
Leanne: Moon time sounds like a fun read! Thanks!
Christine: I would love to win Moon Time. Thanks for the opportunity!
Chelsie: I would love to read moon time!!!!! Thanks so much!!!
Hope: I would love the e-book: Moon Time, it is very timely for me and my daughter! Thanks for the giveaway offers.
:::::::::::
Laura is offering one reader THREE patterns from her Etsy Store.
Adirondack Patterns is a collaboration between twin sisters Laura and Julia who's love of sewing and crafting for their children expanded into the creation of a store. Over the past 2 years, AdirondackPatterns has grown to include over 60 patterns and tutorials; including those on cloth diaper sewing, complete instructions on several variations of Waldorf dolls, clothing tutorials, and accessories for little ones. All of the patterns and tutorials are very simple to follow and almost all of them have detailed photos for every step of the process.
Melissa: I'd love something from Adirondack Patterns! I love sewing for my 5 kids.
::::::::::::
Annie is kindly sharing each of FIVE readers a copy of her latest edition of her e-magazine Alphabet Glue.
Alphabet Glue is a downloadable e-magazine for families who love books! Filled with activities, printables, projects and plenty of inspiration, Alphabet Glue was created in hopes of helping more families to incorporate creativity, imagination and all things literary into their everyday routines. Each issue contains leveled reading lists, bookmaking tutorials, storybuilding activities and hands on projects that complement favorite titles in children's literature.
Lynn: Oh, how we would love to have the lastest Alphabet Glue. We are a family of bibliophiles who look forward to summer days reading in the hammock.
Marnie: Just lovely. But I would love a copy of Alphabet Glue! Thank you
Jen: I've been wanting to get my hands on a copy of Alphabet Glue! Thanks for the giveaway!
Lucy: I'd love to share alphabet glue with my kids
Melissa: Everything looks great but I would love to win Alphabet Glue!
::::::::::::
Brenda is sharing two handknit- all wool yarn lollipops like the ones she sells on her site… with colors of the winner's choice to TWO readers!
Jennifer: I always love these giveaway! I would be so excited to win the ebook illustrating how to make a felted mat/playscape! If that is not available, those lollipops are wonderful too!
Pat: The lollipops and portfolio are both amazing.
::::::::::::
Annie is sharing an art portfolio from her shop with one reader. The portfolio is approximately 9″ x 11″. Inside it has slots for an art pad (up to 8″ x 11″) with cover that opens from the side or bottom. There are also a pouch with slots for pens or pencils and a small zippered pouch for crayons, pencil sharpeners, or other small items. The covers are semi-rigid to help lend extra support for drawing.
Ellen: We'd be thrilled to have the art portfolio for outdoor drawing time this summer!
:::::::::::::
We will be emailing the winners.
Thank you for your continued support of Rhythm of the Home.